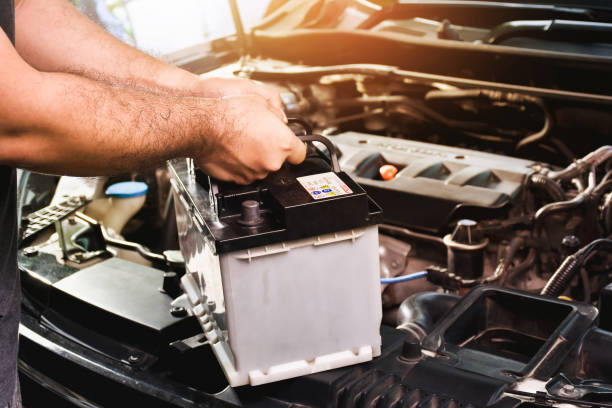 Gear Up for Success: Finding Reliable Car Battery Replacement Near You with GearMaster
Aug 09, 2023 by: Jeniza Olarita
The rhythmic hum of your engine, the wind in your hair, and the thrill of the open road – these are the moments that make driving an exhilarating experience. But what happens when your car suddenly refuses to start? Often, the culprit is a worn-out or dead battery. Fear not, for GearMaster is here to guide you through the process of finding the best car battery replacement services near you, ensuring that your automotive adventures are never cut short.
The Importance of a Healthy Car Battery: A car battery is the heart of your vehicle's electrical system, providing the necessary power to start the engine, operate the lights, and run various electronic components. Over time, batteries lose their ability to hold a charge, leading to decreased performance and, eventually, a dead battery. Regular maintenance and timely replacement are essential to keep your car running smoothly.
Why Choose GearMaster? GearMaster has earned a stellar reputation for its exceptional automotive services, including car battery replacement. Here's why GearMaster should be your go-to choice:
Expert Technicians: GearMaster boasts a team of skilled and experienced technicians who understand the intricacies of car batteries and their replacement. They diagnose issues accurately and provide swift solutions, getting you back on the road in no time.
Quality Batteries: GearMaster only offers high-quality, reliable car batteries from trusted manufacturers. You can rest assured that your replacement battery will meet or exceed industry standards, providing long-lasting performance.
Convenient Locations: With multiple conveniently located service centers, GearMaster ensures that help is always within reach. Whether you're at home, work, or stuck on the roadside, a GearMaster service center is nearby to assist you.
Efficient Service: Time is of the essence, and GearMaster understands that. They strive for quick and efficient service without compromising on quality, minimizing the disruption to your daily routine.
The GearMaster Car Battery Replacement Process:
Diagnosis: When you bring your vehicle to a GearMaster service center, their technicians will perform a comprehensive battery diagnostic test to determine the health of your current battery.
Battery Selection: If a replacement is needed, the experts at GearMaster will recommend the best-suited battery for your vehicle's make and model, ensuring optimal performance and longevity.
Installation: Once you've selected a replacement battery, GearMaster's technicians will skillfully install it, making sure all connections are secure and the battery is functioning correctly.
Environmentally Responsible Disposal: GearMaster is committed to environmental sustainability. They will safely dispose of your old battery, adhering to proper recycling practices.
Tips to Extend Your Car Battery's Lifespan:
Regular Maintenance: Schedule routine battery inspections and maintenance to catch potential issues early.
Limit Short Trips: Frequent short trips can put a strain on your battery. Whenever possible, take longer drives to allow the battery to recharge fully.
Parking Environment: Extreme temperatures, whether hot or cold, can affect battery life. Whenever possible, park your vehicle in a garage or shaded area.
Conclusion: In the world of automotive adventures, GearMaster stands out as a reliable partner for all your car battery replacement needs. With their expert technicians, quality products, and commitment to efficient service, GearMaster ensures that you're always ready to hit the road with confidence. Don't let a dead battery put the brakes on your journey – gear up for success with GearMaster today!
Remember, proper car battery maintenance and timely replacement are crucial for a smooth driving experience. Contact GearMaster or visit one of their service centers to ensure your vehicle's battery remains in top-notch condition. Your next unforgettable road trip is just a GearMaster visit away!